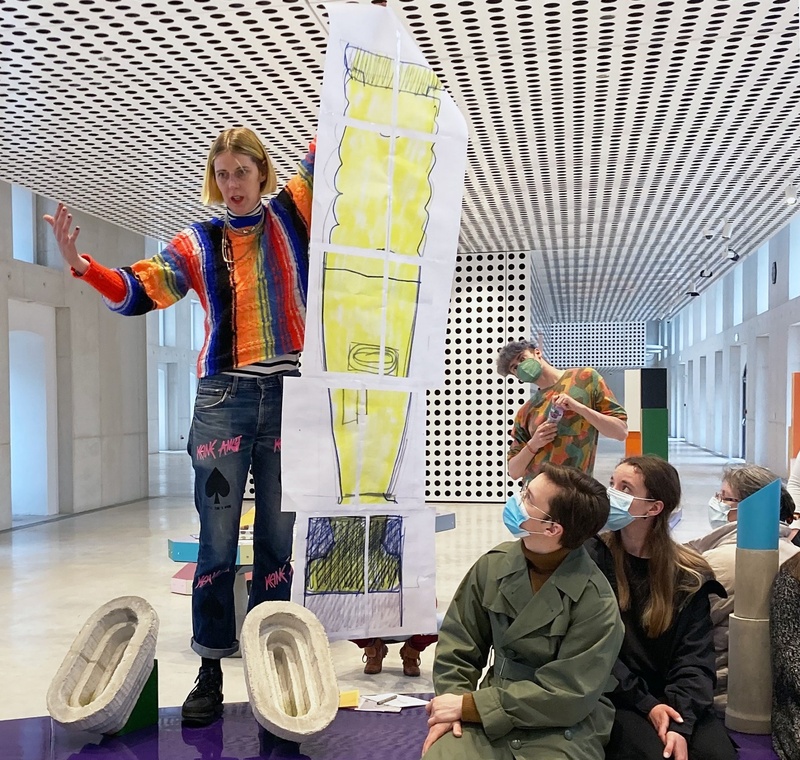 For the performative guided tour the artist will use her working material like sketches, prints, posters, and objects to introduce and expand the work. During the event Sagadin will engage with the sculptures, while using and transforming them. The performative guided tour will be accompanied by a sound collage.
Maruša Sagadin creates considered and masterfully executed sculptural works that are also supporting sculptures, suggesting possible uses through evocative details. The artwork may in such a way become a bench on which the artist places imprints of various casts of props such as lipstick, necklaces or shoes, alluding to possible approaches to activation. Sculptures made of a combination of wood, concrete and various artificial materials invite interaction in their vibrancy. By breaking the established codes of gallery habits in relation to the viewing of artworks, the artist stimulates a broader understanding of the spaces of art.
In addition to the "activation aids", her sculptures include iconographic interpretations and design associations with various parts of the female body, such as breasts, locks of hair or feet, or in connection with the latter, high-heeled footwear that emphasises beauty and eternal discomfort.