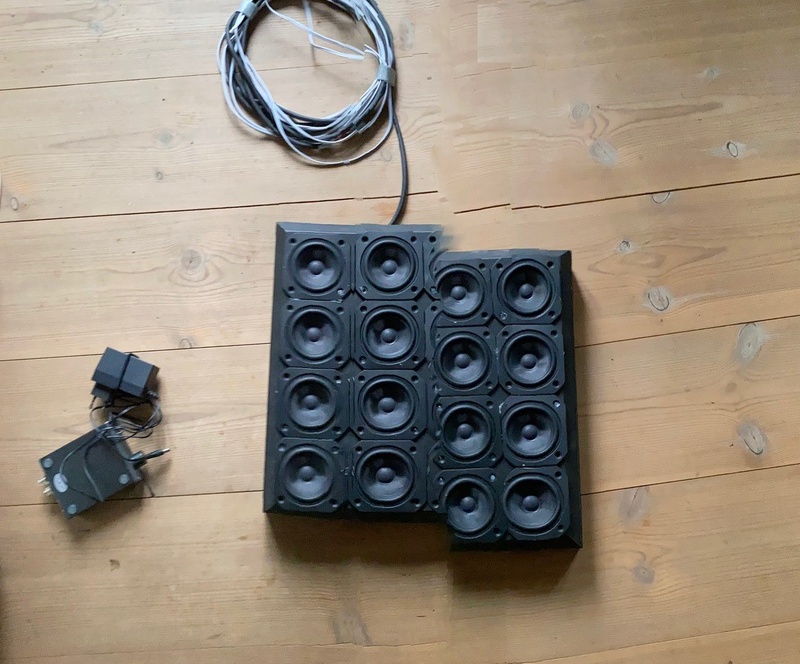 You are kindly invited to join us for a series of sound events: the afternoon will open with a performance/lecture by Jan St. Werner and the evening will close with a performance by Mats Gustafsson.
The Auditory Act, performance/lecture by Jan St. Werner (30 min)
The Auditory Act is a deficient reflection on the process of perception and the constitution of, what we refer to as, the self.
Spaint Chords, performance for five speaker panels feat. Mats Gustafsson (30 min)
Four continuously shifting frequency bands are diffused via custom built loudspeaker panels that utilize narrow sound beams. The panels are handheld by four performers who choreograph their movements to emphasize the exchange between frequencies as well as the surrounding space. These sounds are partly produced electronically but also with instruments such as saxophone, bagpipes and percussion. Composition here means the exploration of space via sounds in motion.
Spaint Chords is a commission by the German Pavillon curated by Yilmaz Dziewior for the 2022 Venice Biennale. The featured artist is Maria Eichhorn whose project is meant to be experienced conceptually and in physical motion.
Sounds: Jan St. Werner, Mats Gustafsson, Erwin Keravec, Dirk Rothbrust
Speaker Panels: Michael Akstaller
Composition: Jan St. Werner
Artist interviews + Q&A with Jan St Werner, Mats Gustafsson and Michael Akstaller (30 min)
Moderated by Brandon Rosenbluth.
Mats Gustafsson performance (30 min)
---
Jan St. Werner is a founding member of the music group Mouse on Mars and releases solo work on his own Fiepblatter Catalogue. St. Werner has been a visiting lecturer at MIT's Program in Art, Culture and Technology (ACT) and served as Professor for Interactive Art and Dynamic Acoustic Research at the Academies of Fine Arts Nuremberg and Munich.
Mats Gustafsson is a Swedish saxophone player and live-electronic performer and composer living in Austria. Working with his own groups Fire!, Fire! Orchestra, The End and the Nu - Ensemble as well as solo works with other art forms, theatre, contemporary dance, conceptual art and poetry. Record productions and festival producer since early 90s. Discaholic.
Michael Akstaller studied at the Academy of Fine Arts Nuremberg, at the HfG Karlsruhe and civil engineering at the Nuremberg University of Technology. His research focus are spatial perception via directed sound sources in sound installations, interactions between hydrodynamics and morphological processes in fluids and pure acoustic phenomena. Together with Jan St. Werner, he initiated the Class for Dynamic Acoustic Research at AdBK Nuremberg, which is now operating as an independent artist collective.