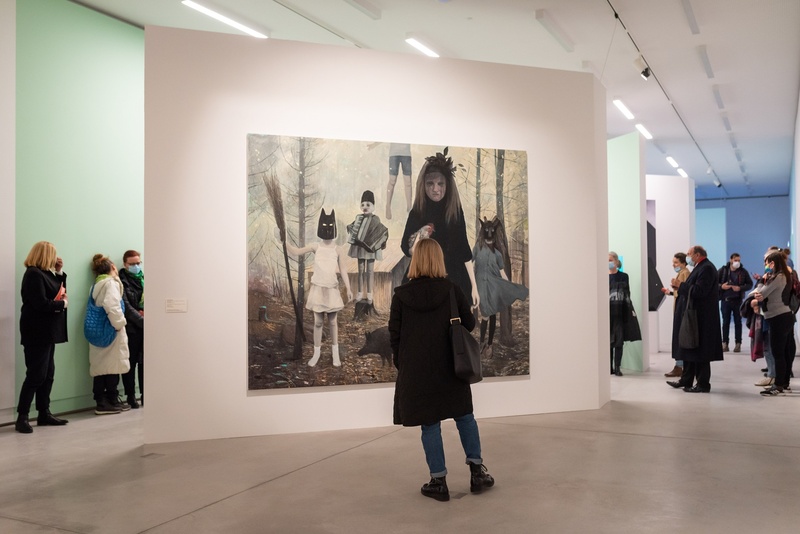 The group exhibition Returning the Gaze offers a glimpse into the creative processes and practices of nearly sixty women artists, all either Slovenian or working in Slovenia, from the 1990s to the present day.
Many of the works in the exhibition are either characteristic of a particular period or groundbreaking in their approach or execution. Some of them focus on specific social themes, such as issues of identity, gender and feminism and the way women artists are represented in the art system. Special attention has been paid to female artists who have consistently adhered to a particular style of expression, approach, form or concept, as well as to those who have enabled us to view certain events in the past more systematically.
Each of the works in the exhibition deals with perennial preoccupations such as human nature, human relationships, be that with other people or the environment or other forms of life, and the impacts of techno, science, society and politics. The exhibition offers an extensive selection of paintings, sculptures, videos, performances, interventions and audio events; the aim being to shed light on aspects of today's Slovenian art scene by creating dialogical relationships between the works of artists from different generations, all using different media, practices and approaches. In searching for commonalities and overlaps within these works, while also seeking to combine fragments from the prolific art production of the last thirty years into an overarching story, the curatos, Alenka Gregorič, Alenka Trebušak, Mara Anjoli Vujić and Mateja Podlesnik, have identified four main themes: urban and natural landscapes; the body or figure; the art system; and the socio-political environment.
---
The guided tour will be held in Slovenian.
Tickets
The event is free of charge. Registration required. Apply at info@cukrarna.art.