Solo Exhibition
sophie thun
Leaking Times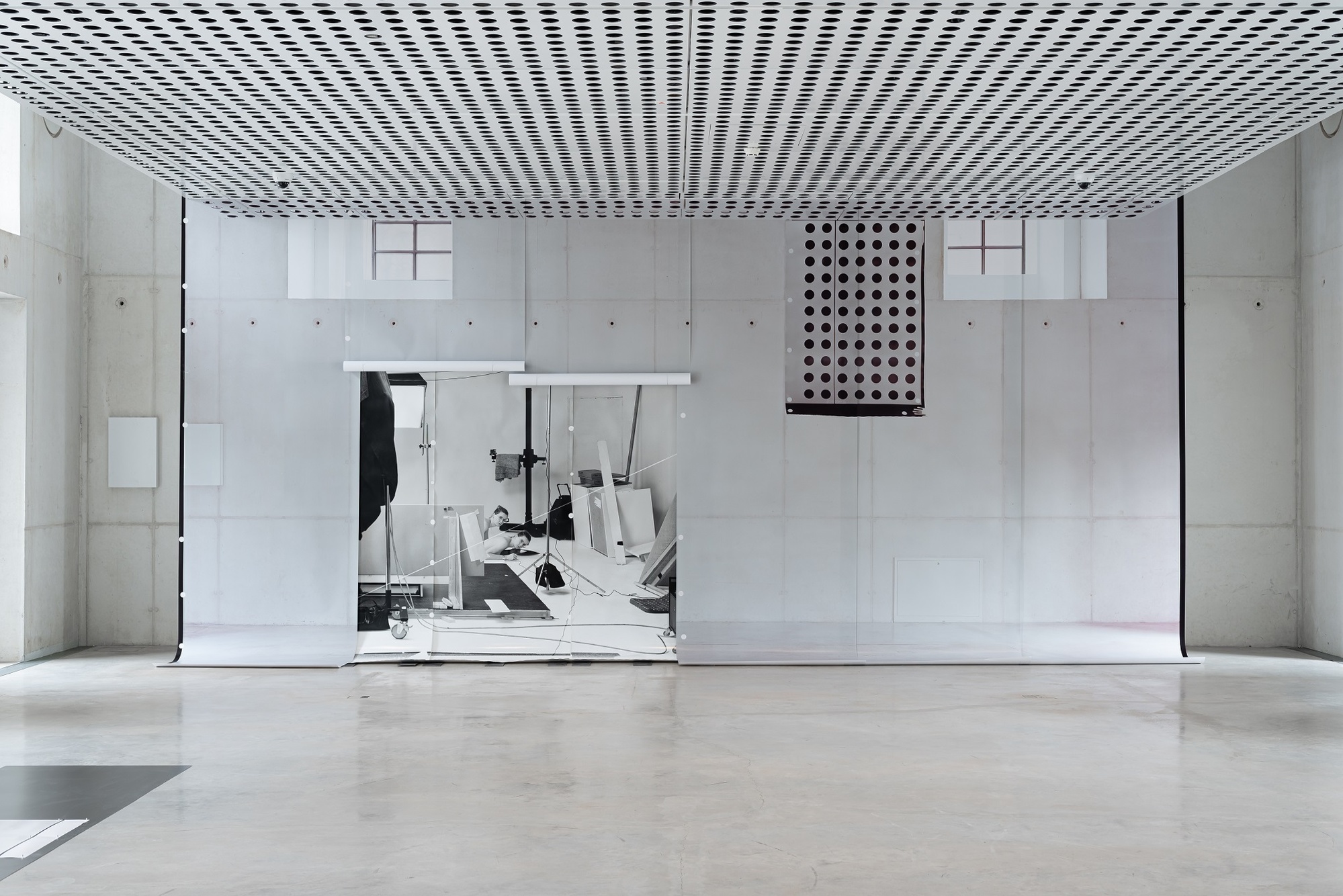 Curated by Felicitas Thun-Hohenstein
The dialectics between an artwork's time and place of production and its presentation, between the artist's work conditions and the physical presence of her body in alliance with the apparatus are central themes in Sophie Thun's artistic practice. Consequently, she uses the sites of her exhibitions as the starting point of her expansive photographic installations. In her small- and large-scale photographs and photograms, which often overlap, visualizing the process of aesthetic production in all its temporal layering becomes an act of self-conception.
For Leaking Times, the artist moves her usual work studio – in Vienna's Westbahnstraße and Fotolabor Berlin – to Cukrarna Gallery for the duration of the exhibition. The building, a site inscribed with multiple histories and forms of production, started out as a sugar factory, then became a residential space for workers and later served as a house of literature before its most recent incarnation as an exhibition space.
For five weeks, Sophie Thun will be present to record, conceptualize and represent her work beyond the dichotomy of lived and measured time. She allows the inherent interference of work, production, representation, life and aesthetics to melt into a performative texture. Like the viscous melted sugar that slowly crept into the cracks and crevices of the burning Cukrarna building long ago, the artist allows the temporal layers of artistic production to flow together and congeal. In self-determined gestures, she eludes moments of before and after, instead creating her own time capsule, her own temporality.
In a setting of space-expanding photographic interventions and two floor-to-ceiling steel walls, which serve as a visual archive, Sophie Thun pursues everyday artistic tasks for five weeks: she unrolls her large works on the floor and archives them, files her taxes, works on upcoming publications and exhibitions, tidies up or, sometimes, simply does nothing at all. Instead of serving the inflated capitalist demands of an attention-seeking economy, she visibly counters them with her self-determined artistic practice, thus reclaiming her life.
Time freed from its corset meets space that has become equally brittle. The 1:1 prints of windows, doors and doorways hung on the steel walls with magnets turn into architectural doppelgängers and, along with images of past exhibitions, provide glimpses into other layers of time and space. Countering a set definition of space, the artist who is present both in and around her photographs creates crystalline textures of multiple spatial and temporal presences, only to melt them down again a moment later.
Opening hours
Tuesday to Sunday: 10.00–19.00
Supported by: Austrian Cultural Forum Ljubljana; recom ART Berlin; Federal Ministry for Arts, Culture, the Civil Service and Sport, Austria