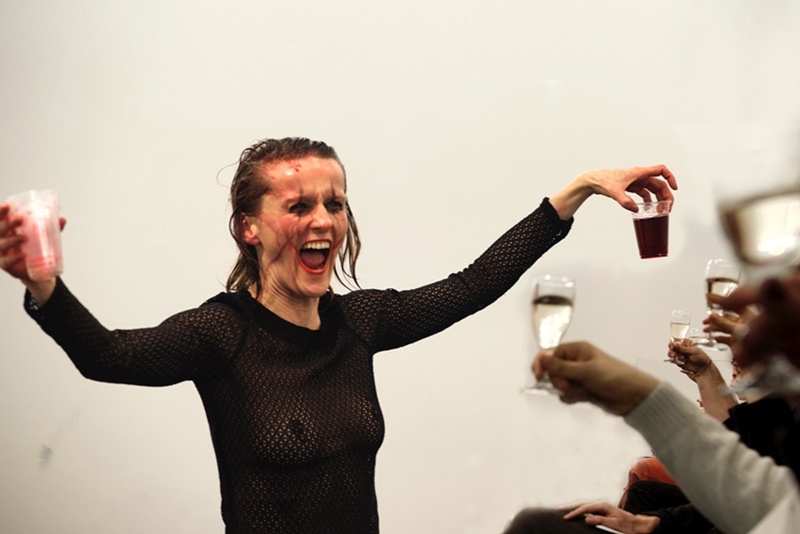 Hundred Toasts is a celebration of events, ideas, attempts and failures that have had a profound impact on people living in a particular context. Over the years, Via Negativa has invited the public to toast controversial artists, statesmen, thinkers and natural phenomena that have divided and united people. This time we toast the 20th anniversary of Via Negativa – 20 years of extraordinary perseverance in the search for naked and raw reality.
Audiences and artists will indulge in moments of self-reflection to celebrate the effort, pain, imagination and pleasure of theatrical madness. A toast to all those concerned about the condition of art: those who are still hopeful, those who are bored to death or deeply confused, those completely disillusioned, totally exhausted and eternally sad but still ready to laugh.
For each performance they write new toasts depending on the cultural, national or political context of the festival, exhibition or venue in which they present Hundred Toasts. Hundred Toasts was first performed in Poland, where it was dedicated to the celebration of the birth of the Polish theater director and visual artist Tadeusz Kantor. In Slovenia it was dedicated to the celebration of the death of Slovenian romantic poet France Prešeren, and the culture, which flourished on his grave. In Rome toasts were dedicated to Dante Alighieri and his nine circles of hell. In New York toasts were dedicated to the figure of the father of American democracy: George Washington. In Zagreb they were celebrating the heritage of Yugoslavian regime embodied in the figure of Josip Broz Tito – its founder and its destroyer. In Poland toasts were dedicated to the celebration of the 100th anniversary of Polish independence and the gray eminence of Polish politics Jarosław Kaczyński.
Colophon
Conceived and devised by: Anita Wach, Bojan Jablanovec; Performed by: Anita Wach; Concept and direction: Bojan Jablanovec; Music: Glenn Miller, Michael Nyman, The Stooges, Giuseppe Verdi, Alfred Schnittke; Producer: Špela Trošt; Production: Via Negativa