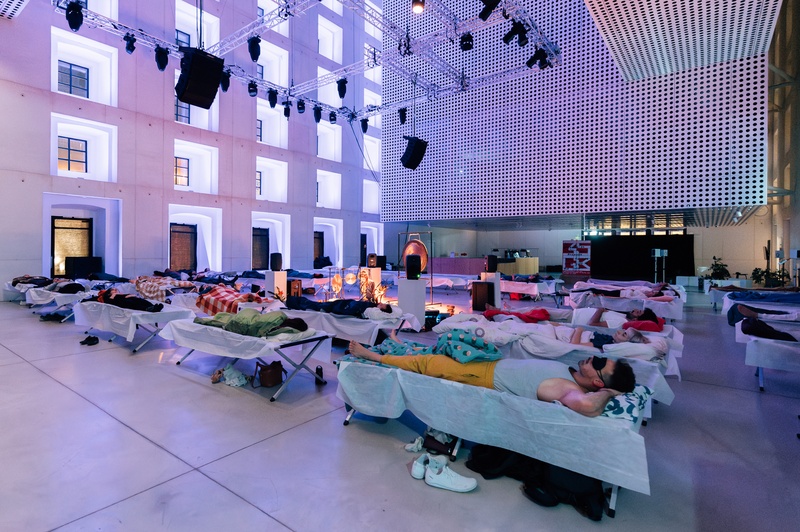 TO)pot gathers artists, theorists and curious walkers to bring them closer to walking and listening as a spatial acting-out of the place and the body; as practices of reading, creating, grounding, immersing, being acted upon and acting in the environment; as ways of experiencing our myriads entanglements and interdependencies with other human and non-human beings and the world. The festival will take place in various locations in Ljubljana, one of which is Cukrarna.
28. 9.
16.30: ALDO MILOHNIĆ: WALKING THE WALKING PERFORMANCES, soundwalk from City Hall to Cukrarna, 75 min
18.00: ELENA BISERNA, IDA HIRŠENFELDER, JACEK SMOLICKI: CRITICAL APPROACHES TO SOUNDWALKING, a polyvocal teoretical presentation and discussion, 120 min
20.00: NEJA TOMŠIČ: UNTANGLING A GARDEN, performance-in-progress, 30 min
29. 9.
17.00: TIM SHAW: AMBULATION, soundwalk, 60 min
30. 9.
18.30: AMANDA GUTIÉRREZ: LISTENING / SPEAKING IN TONGUES, soundwalk, 75 min
22.00: a l l j a: SLEEP CONCERT, Immersive sound event, 420 min
1. 10.
5.30: CATHERINE CLOVER: LARKING, soundwalk, 90 min
28. 9.—1. 10.
NEJA TOMŠIČ: UNTANGLING A GARDEN, sound instalation
ANNA RAIMONDO: ENCOURAGEMENTS, HD video
TO)pot LIBRARY
Colophon
Curators: Elena Biserna, Irena Pivka; production: Irena Pivka, Matej Tomažin, Brane Zorman; coproduction: Cukrarna Gallery / MGML