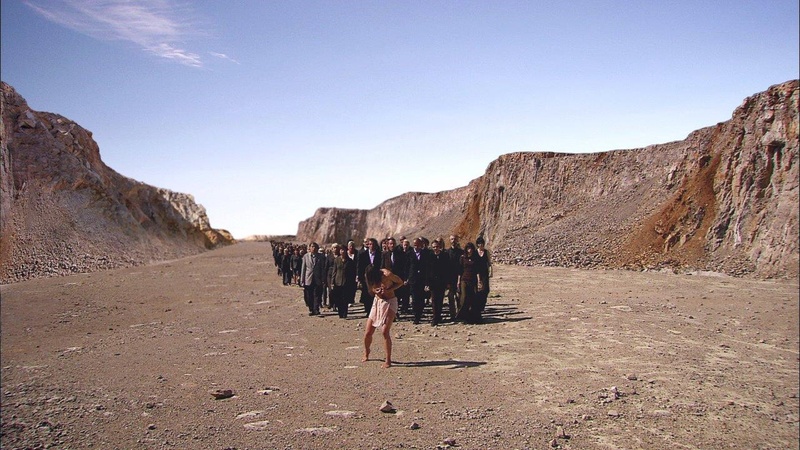 The For the End of Time (2009) film is an investigation on man and his smallness in front of nature and time, the story is told by a voice-over narrator, with no dialogues between the characters. The camera slowly moves horizontally in panoramic views showing bright wide desert landscapes crossed by traces of death, alternated with futuristic interiors.
Computer generated imagery plays an important role in this last work as in the previous ones by Ema Kugler and contributes to the creation of recurrent enviroments which are a perfect mirror for the inner conflict concerning man of all times and cultures. The double nature of soul and body, and the costant tension between pain and desire are here universal themes that assume symbolic and mythical connotations, making the film a metaphor of an eternal quest. (Source: DIVA)
Ema Kugler is an artist who proves with her works that the Gesamtskunstwerk is the highest artistic expression. In her works, the tension between life and death is staged into an almost tangible presence. We experience it sensually in the performances in huge empty, hypothermic industrial halls, factories, quarries or on film screens filled with images that defy any definition of genre. Experiencing her events leaves sensual impressions that appear to us as images long after we have remembered the place and time in which they took root in us – in a dormant dream or in open-eyed reverie. She excels in her original visual language that feeds on the subconscious, refers to the metaphors of human spiritual history and follows the highest aesthetic standards. Her moving images are a representation of the rituals of daily life, an interpretation of the great mythological stories and an engaged commentary on social anomalies.
—Jurij Krpan
Tickets
The event is free of charge. Registration required. Apply at info@cukrarna.art.